IWL India Manufactures High quality 3 layer, 5 Layer and 7 Layer APP modified bituminous membranes with different reinforcements, polymeric mixes and thicknesses satisfying different project requirements and ensuring a safe and sustainable structure built to last a lifetime! IWL has 2 Lines working round the clock  manufacturing these membranes to international standards, meeting client and project specific requirements.  IWL India is one of the few organizations in India that can manufacture these membranes in 7 layers. These membranes are available with sand, mineral and aluminium finish containing regular APP (Atactic Polypropylene) or SBS (Styrene Butadiene Styrene) mixes and having Anti root properties.
Hyperplas Polyester
A reinforced APP membrane that provides the most superior strength and elongation characteristics.
Hyperplas Standard
APP membrane reinforced high density polyethylene film that itself acts as a total water barrier.
Plastikfelt
An economical membrane that provide temporary waterproofing for limited periods of time.
Hyperself EIM
Highly specialised electrical insulation membrane used for the protection of passengers on metro station platforms.
Mastoplas
An extra strong APP membrane used for protecting concrete decks, bridges and flyovers to prevent corrosion to steel reinforcements.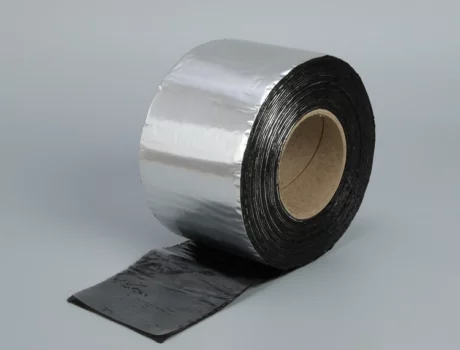 Hyperseal
A self-adhesive modified bituminous sealing flash tape laminated with an aluminium film on the upper side.